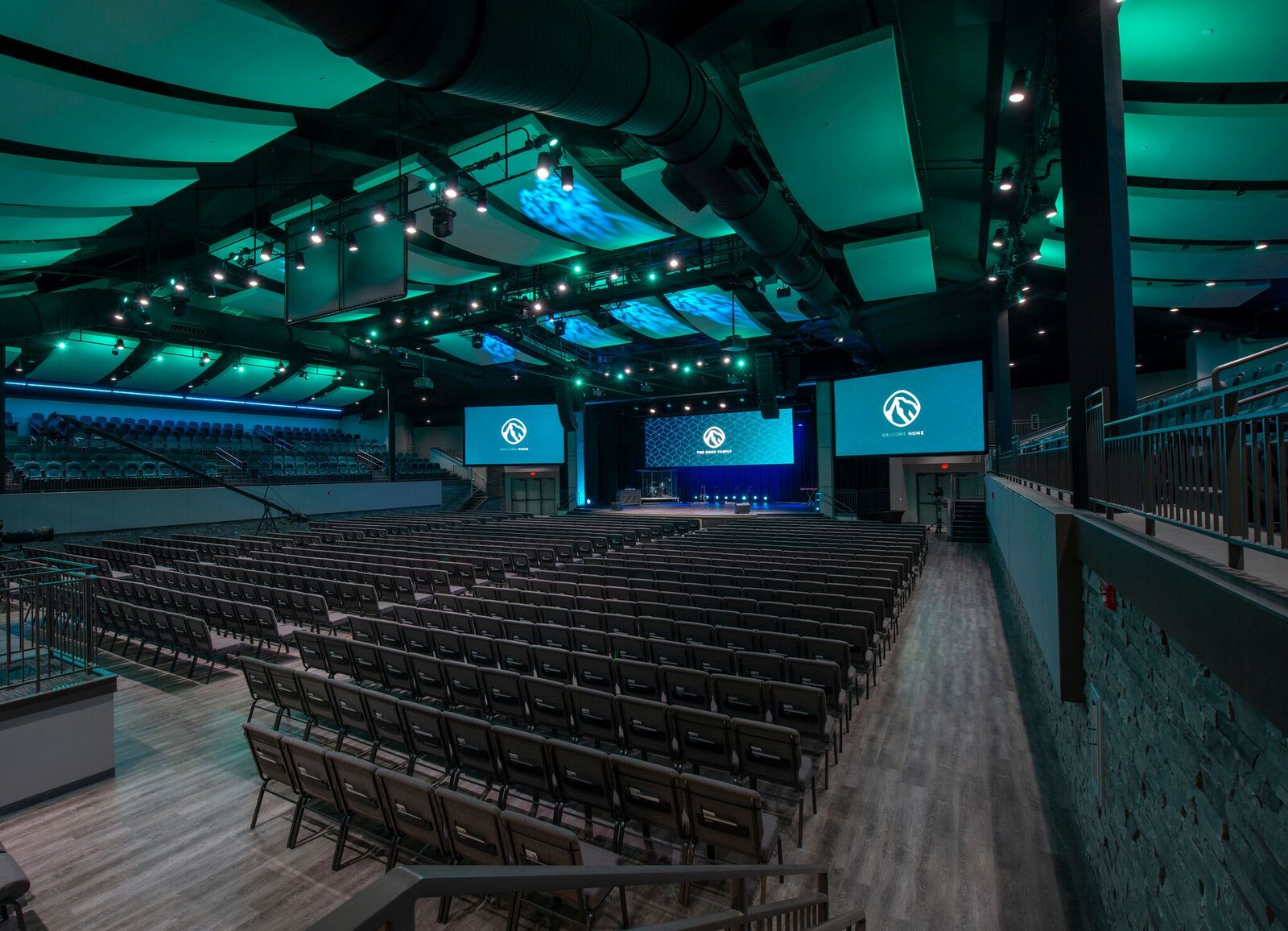 Baptisms. Weddings. Rockin' concerts. Confirmations. Funerals. Sunday Worship. The list goes on. We get the picture. You've got a space that does it all, and you need a lighting design that's just as flexible.

We've outfitted quite a few houses of worship over the years and if there's one thing we've learned, it's all about the right mix of lights—and maybe a video wall—to give you the versatility you need. Whether you've got a tight budget, limited space, or both, you've got to know how to stretch your dollar and rig real estate as far as they'll go.
Step 1: Reliable, color changing wash lights

First, lay your foundation. Select a reliable color changing wash light. Color reflects mood, so the more colors the better. Since your wash lights will be on for the entirety of your events, you need a fixture that can stay cool without a lot of fan noise. Our recommendation: TOURnado™ WiMAX 7 or Colorise™ EXA. Six colors let you set the right mood. The 7th color offered by WiMAX 7 (lime) provides another benefit of higher CRI, meaning it shows more lifelike skin tones. Both are completely silent with fanless convection cool. An added benefit of the TOURnado WiMAX 7 is its built-in W-DMX receiver, enabling wireless control.
Step 2: Compact, but powerful moving heads

Next, add some moving heads to your design. You may not use this for every service, but they'll provide the high production quality and effects needed when your worship ramps up to a rock concert. A lot of movers are large and costly—ours aren't. Our recommendation: Super-G™ 150. It has the power and versatility of large, high-end movers in a compact, lightweight body. Not only does it take up less space, it won't look out of place on your altar/worship space. It comes loaded with gobos, a 7+Warm White color wheel, and a 3-facet prism to create stunning effects. One thing to keep in mind: moving heads do need to be cooled and create some fan noise. But for most applications, this isn't an issue. They can still be utilized during more traditional services (as a spotlight for example) but are best suited for longer use when your service is filled with joyful music.
Step 3: The ultimate tool in versatility – a LED video wall

The ultimate tool in versatility is adding an LED video wall to your design, but there is so much to cover there that we'll have to save it for another blog post.

If you've got any questions about video walls, any of the products listed above, or your design in general, fill out the contact form and we'll get you in touch with a House of Worship specialist. We'll get you set up and ready to rock and worship in no time.
Recommended for you
Singing Praises: Sanctuary Church and Blizzard
20 Questions for a Winning Lighting Design Bid for House of Worship – Part 1
20 Questions for a Winning Lighting Design Bid for House of Worship – Part 2