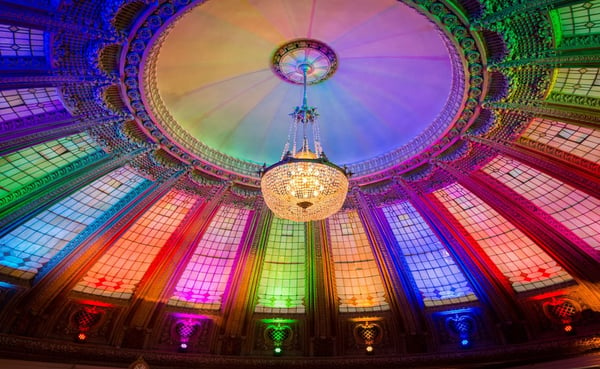 Photo Courtesy of Crimson Haze Event Lighting
Remember Seinfeld's two-face girlfriend? One day she is a knock-out, the next… YEESH! It all depends on the lighting. It's the same with your home or business. The right lighting makes your building look elegant and welcoming. The wrong lighting makes it look like the Griswald house had a baby with a Kenny Rogers Roasters.
Our philosophy is usually the more lights the better. In this case, to keep your building from looking like an off-strip Vegas casino you need the help of a trained design professional. It's not as simple as picking out lights and having an electrician wire it all up. Architectural lighting designers deliver a mix of subtlety, efficiency, and creativity that can rival the best theatrical designs.
Design and Scope
Lighting design projects should always start as a collaborative process. You might have a clear and detailed vision of what you want. You might be utterly clueless. Either way, it's wise to get professional guidance from the beginning. The designer's job is to ask questions and help flesh out the design and scope of the project. They'll help you determine how you want people to experience your space. They'll ensure the design is both functional and attractive. One of the most important questions they'll ask is, "How much are you willing to invest in the project?"
You need to be upfront with that last question. The designer needs an honest, realistic budget. It determines the scope of the project. It doesn't do either of you any good working with false figures.
Special Conditions
Almost every architectural project comes with special conditions. External lighting requires the right lights to match your quality, durability and efficiency needs. Your building could be impacted by a variety of special circumstances including unorthodox design, weather or geography. For interior installations, do you have anything delicate or fragile that is impacted by light? As the sun moves across the sky, how will lighting needs change throughout the day and into night? A professional who understands your special needs will make the proper adjustment to keep your budget in check through the design phase and beyond.
Who Does What?
Chances are your lighting designer is not a building engineer or electrician. Make sure you understand if you're contracting the entire installation process or if you'll need to hire additional help to complete the job. You don't want any surprise costs at the end of the process to blow up your budget. If the designer doesn't offer full contracting, it's likely they have recommendations on professionals who do quality work at a fair price.
Now you've defined vision, scope and design, your budget, special conditions, and you know exactly who is doing what. It's time for your designer to make the magic happen. Sit back and enjoy the transformation. Sleep soundly knowing your guests or customers will never see your space as a two-face.
Recommended for you
20 Questions for a Winning Lighting Design Bid for House of Worship - Part 1
Inspiration: Blizzard Lights Around the World
Shine a Light on Your Message: The Basics of Lighting Design in Your House of Worship