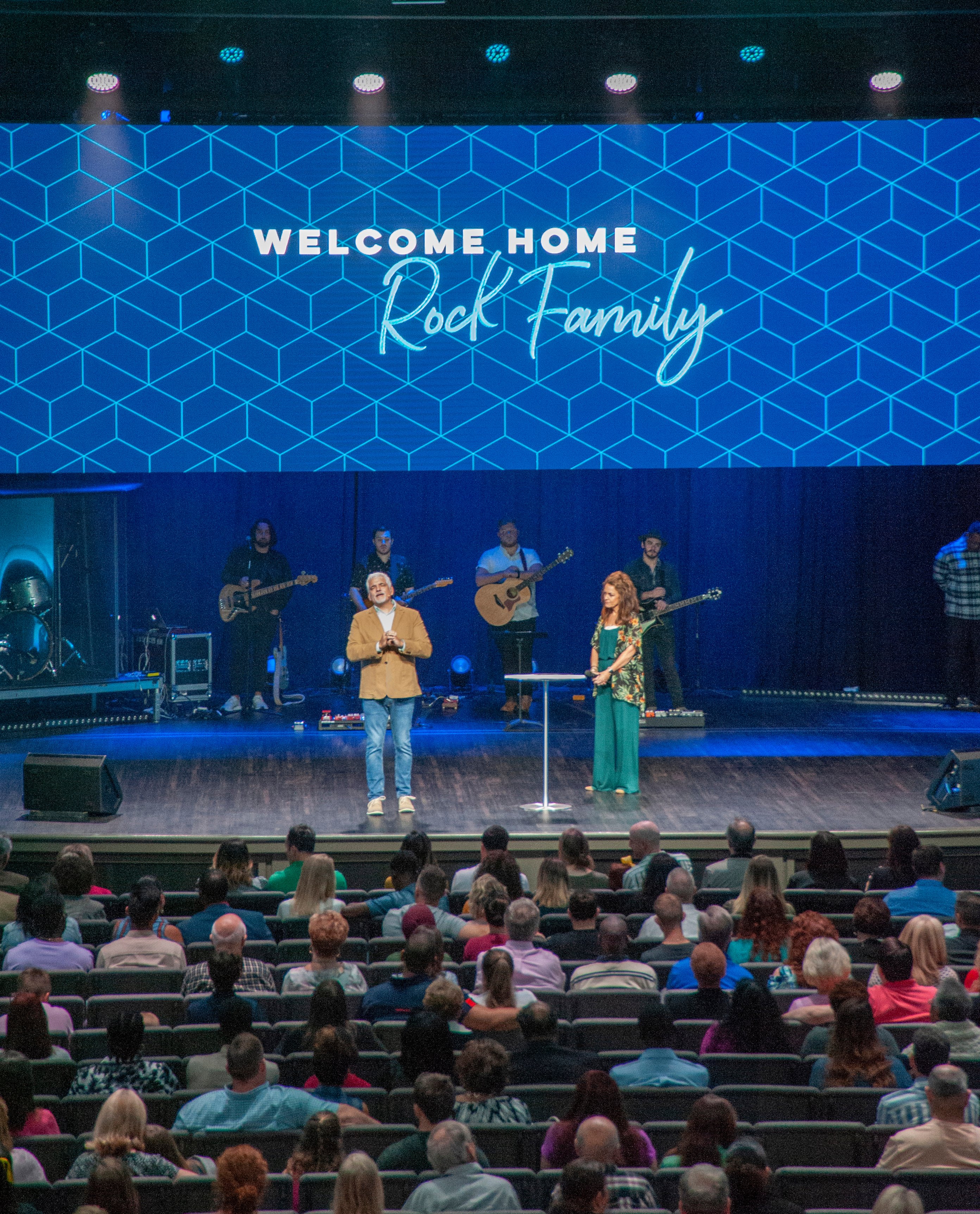 When the Rock Family Worship Center in Huntsville, AL purchased a sprawling 50-year-old high school in 2015 they knew they had an opportunity to create something bold. More than 2-years later the space has been transformed into a multi-use facility including a performance theater, a children's center and an open commons with its own coffee shop. The jewel of the new church is a 1,500 seat auditorium reconstructed from the school gymnasium where primary services are held.

In order to create a dynamic, impactful space they turned to impactful, dynamic tool. The church installed a 108-panel 10x30-foot LED video wall to sit directly above the main stage in the auditorium. Jimi Zink is the church's Technical Director. He turned to Blizzard Lighting and their IRiS™ R3 video wall. Zink said, "We did a lot of shopping around. We looked at a lot of walls in person last year at LDI. The IRiS had all of the specs to fit our needs. It was as good technically as anything else we've seen and it was able to fit in the budget. It has really been flawless."

The Blizzard IRiS R3 panels feature 3.9mm pixel pitch and 128x128 resolution. It boasts exceptional 1,200 nits brightness and 1920Hz refresh rate. Each panel each comes with a 3' etherCON® compatible interconnect, plus a 3' powerCON®compatible interconnect cable. They are easily connected with a quick lock system and can be curved 10° concave or 5° convex.

Blizzard also offers the IRiS™ R2 video panel with a 2.9mm pitch and as well as the IRiS IP3, an outdoor rated panel with a 3.9mm pitch and an impressively high 4,500 nit brightness. Both the R2 and the IP3 feature a 3840hz refresh rate. This fall Blizzard is also launching the IRiS InSite, a panel specifically designed for permanent installations that can be flush wall mounted. The InSite will be available in both a 2.5mm and 3.8mm pitch. All of Blizzard's panels are front serviceable, but the InSite is unique in that it doesn't require any rear access and can be repaired while still attached to the wall.

Mobile panels were key for The Rock's plans. Their wall is hung from two 1-ton motors and is raised and lowered during every service. During the sermon, the wall sits on the ground to create a backdrop for Pastor Rusty Nelson, not only for the thousands who attend the services but those watching on live stream and local TV. According to Zink, the wall is raised 7-feet above the ground during the worship portion of the service. "It really transforms the stage into 2 completely different looks. It allows us to create something that is very animated, but also very automated." A NovaStar VX4 processor was selected for the project. "The team at Blizzard was really helpful in getting NovaStar working for us, it has been really easy to use."

Mabe Audio Video and Lighting worked as the integrator on the project. Richard Vaughn served as the lead engineer. He said transforming a 50-year-old school into a state-of-the-art church was not without its difficulties. "The whole project introduced a ton of challenges. I like to think of them as creative ways to find opportunities for success." Planning began more than18 months before completion. An LED video wall wasn't included in the original design, but advances in the field allowed one to be worked into the budget. "Even a year ago, you didn't see a ton of (video walls) in houses of worship, because nobody could afford them. But now the price is getting to the point where it's very similar to the cost of larger scale projection systems. The quality and brightness are so much higher, it makes sense to go with the LED walls." A vast majority of installs completed by Mabe are in houses of worship and Vaughn says he sees LED walls as a trend that will continue to grow.

That sentiment was echoed by Blizzard CEO, Will Komassa. "We've seen sales of the IRiS panels explode over the last year, particularly in the last 6 months. The house of worship market has been huge for us. And we've seen them used in a variety of creative ways. We've put as many as 3 walls up in a single church. We recently sent an IRiS IP3 wall to Denver for a mobile church. We've tested the outdoor walls in the middle of a Wisconsin winter, so we know it will be able to handle the elements in Denver."

Komassa is confident in every video wall Blizzard ships, "We assemble every wall here in our warehouse before it is sent out. When it arrives it will be ready to go." Vaughn confirmed that as his experience, "The hardware was extremely simple to put together and the wall went up quickly. Didn't really have any snags or anything as far as the hardware went or the cable interconnects between the panels."

Both Zink and Vaughn admitted aside from price, service was key in deciding which wall to choose. Vaughn said, "Our biggest deciding factor on a LED wall is the manufacturer's support. We want to make sure we have a product we feel comfortable with for our clients, and if something does happen we can call and actually talk to someone who knows what they are doing."

Vaughn concluded he expects to be installing plenty of walls going forward. "The Blizzard IRiS wall was a very cost-effective solution and the features were on par with any other screen we've seen, it was great that it came with all of the accessories and spare parts we might need. With the experience on this installation, would definitely move forward with choosing Blizzard for our projects."
Recommended for you
Video Walls: How Big is Big Enough?
VIDEO: Watch our LED Video Wall Installation at Blizzard HQ
Battle Royale: LED Video Wall vs. Projection Video System